Classroom Reading Corners
Classroom Reading Corners Appeal
At Franche, reading and writing is an area of key development and we are passionate about books! We want to instil a love of reading in all our pupils, in order to achieve this, we need to inspire and excite them with wonderful new books.
Due to increasingly diminishing budgets, we do not have the finance needed to update our classroom reading provision and develop our reading corners. We are asking you help to raise funds for a collection of fiction books for each classroom that the children can use for free reading and home reading. We would love to create a magical reading area in each and every classroom from Nursery to Year 6. We will also use some of the money to buy lovely soft furnishings so the pupils can feel comfortable and happy! We are aiming to raise £1000. This money will help us to buy books that we currently do not have in classrooms, but also keep a reserve to buy new titles that are released as the year goes on, ensuring the children always have something new and exciting to read.
Reading is a skill we take for granted, yet one that is essential for being able to get on in life. As a child grows up, being able to read well not only enables them to discover new facts but also opens them up to a world of new ideas, stories and opportunities. The minimum online donation is £5, but if you want to donate less, you can drop cash into the school office.
Please do not hesitate to contact me on the school number or email office@francheprimary.worcs.sch.uk if you have any questions regarding our fundraising campaign. Thank you in advance for your support! Yours sincerely, Allison Bill School Business Manager
Target: £1,000.00
Raised: £415.00
Deadline: 31/03/2020
0 Days Remaining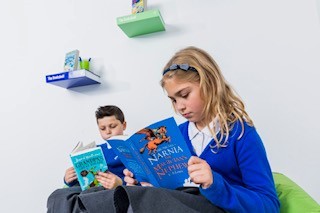 £1k
£900
£800
£700
£600
£500
£400
£300
£200
£100